Everyone knows, for the majority of people it is hard to laugh on stage.
Here are some tricks and tips to enhance your laugh and make it more realistic: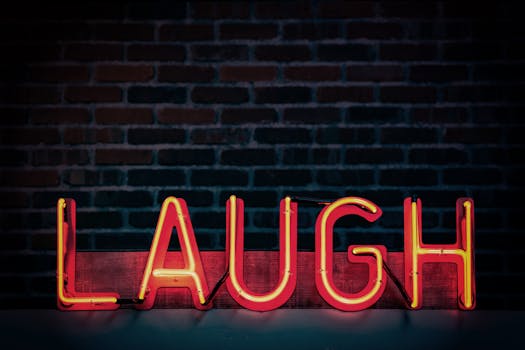 Don't control yourself. Your natural laugh comes as a surprise, like an unplanned vocalization. Try to mimic this in your fake laughter. Your laughter is irregular so add variety to your laughter by going up and down in pitch.
Speed up the rate of your laugh.  Listeners are more likely to believe a laugh when it is sped up. Instead of a slow deep laugh, make it more high pitched and giggly.
Add breathes to your laughter. You can tell a fake laugh from a real one by the breath inserted between your chuckles and chortles. To make a laugh more realistic, allow your breath to come in more staggered intervals to make it seem more genuine.
Laugh according to your gender. Men and Women both tend to vary to different tones of laughter. Women laugh in a more sing-song, birdlike manner, while men most often grunt or snort in amusement. Use this to your advantage to make your laugh sound less fake.
Don't laugh to loud. Most people have trouble with this. They often fake their laughter so much over the top, everyone can tell it is fake. So, basically don't laugh so loud to where you can't hear the conversation over it.
Taper off of the end of your laugh. A common error is when you come to an abrupt stop in your laughter. Your natural laugh never happens to abruptly stop so begin fading your laugh until you feel like it is right to stop.